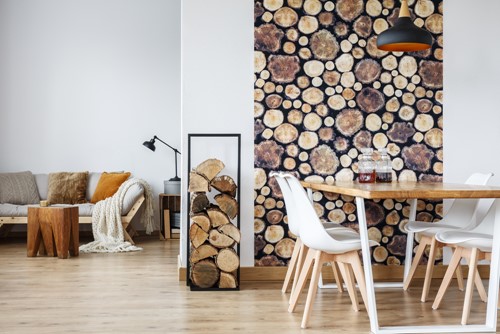 Photo by Photographee.eu via Shutterstock
Rustic décor style has been around and around some more. Today homeowners and designers alike still love this style, but it has evolved to meet some of their more modern design preferences. What is rustic décor? It's a design style that focuses on natural fibers and textures with a heavy emphasis on wood.
Rustic styles can gravitate toward southwestern, country cabin or beachy, nautical décor depending on the color, tones and woods used. In the past rustic style has been marked by heavy furniture with large and oversized sofas and chairs, but today's home seeks a sleeker and chicer version of this style. So, how do you accomplish rustic chic?
Woods
Instead of heavy wood pieces implement wood in other areas so you can keep the furniture décor light. Add wood beams to the ceiling or rustic paneling to the walls. Design a beautiful wooden mantle. Use a weathered gray wood for flooring, or even a charred finish. If you want a large wooden furniture piece, opt for a dining or coffee table made from one large slab. Another great place for wood is in the kitchen. You can pair a rustic kitchen island with sleek white walls and cabinets or go for the opposite and have a sleek island with rustic cabinets.
Textures / Fabrics
Using textures to soften the hard woods in your rustic décor is a subtle way to steer the design toward sleek instead of clunky cavern. Instead of the old rustic trends with big sofas and chairs sporting heavy rounded arms, try modern minimalist sofas in light colors and fabrics like grey canvas or linen. Add in more rustic vibes by selecting wooden accent furniture with leather upholstery. Keep window treatments lightweight and sheer as well, and stick with natural fiber rugs with little to no pattern.
Accessories
The best way to keep your rustic décor chic is by implementing small accessories and art. Evoke a rustic country or beachy vibe without overdoing it on the cheesy clunky items. Stick with small pieces you can add to the mantle or bookshelf, throw pillows and blankets and items with functionality like crates, trunks and bar carts. 
As with any chic décor look, the key thing to always remember is that less is more. Determine what direction you want to lean with your rustic décor and then implement the style with pairings that keep your home light, clean and inviting.